19 weeks pregnant
Today we had our ultrasound and found out the gender of our baby! I'm so excited to have found out to be honest. Even though I am usually quite sceptical about finding out the gender, I feel like the sonographer took the time to explain to me why it was definitely the gender she said it was. Obviously I'm not sharing that right now, or those sentences would have been a lot more coherent! Anyway, we are telling friends and people we see in person. The children know, so it's certainly not a SECRET secret. But I don't want to just share it on the internet, you know?
Other than that, I had a little bit of bleeding this week. Post-sex, which is the worst way to bleed in my opinion. I mentioned it at the ultrasound and the sonographer checked the placenta. It is quite close to the cervix apparently and while it's not a problem now, I will have to have a follow up ultrasound later in the pregnancy to check it has moved (which apparently is likely). But it could be a reason for the bleeding.
I've got a cold which is no fun. 🙁 I guess it was to be expected seeing as it's a bad Winter for it, and I have a low immune system due to pregnancy. Hopefully it clears up soon, it's already been a few days, and I lost my voice!
20 weeks pregnant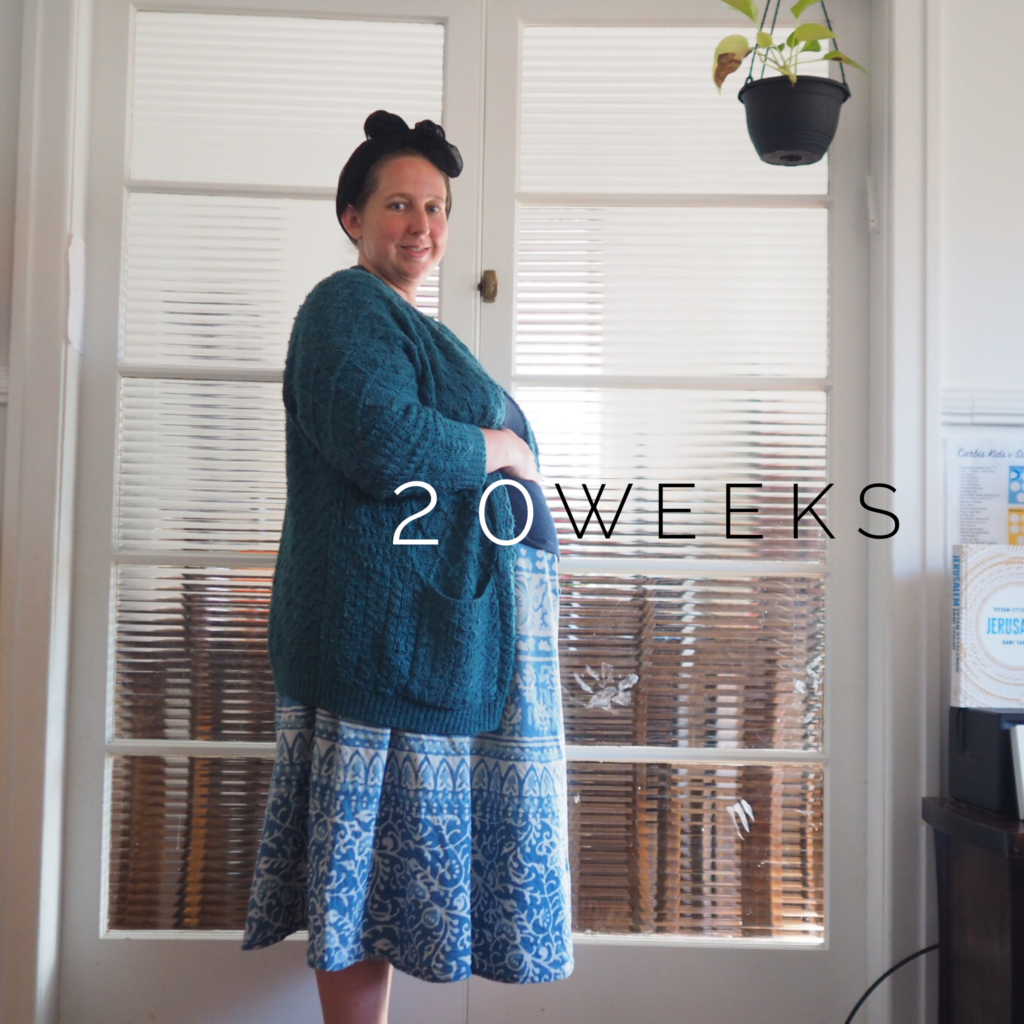 We're getting used to referring to the baby with a gender, and I actually love how this is helping everyone feel more connected to the baby. Like they are a true member of the family who just isn't here yet. So different to the others. I mean, the children were much much younger, so it was different in that way anyway, but I'm really enjoying being pregnant and having older children.
I think I've had a UTI this week? I fixed it with a home remedy, but it was quite uncomfortable! This on top of my cold (when will it end?!) is really frustrating.
21 weeks pregnant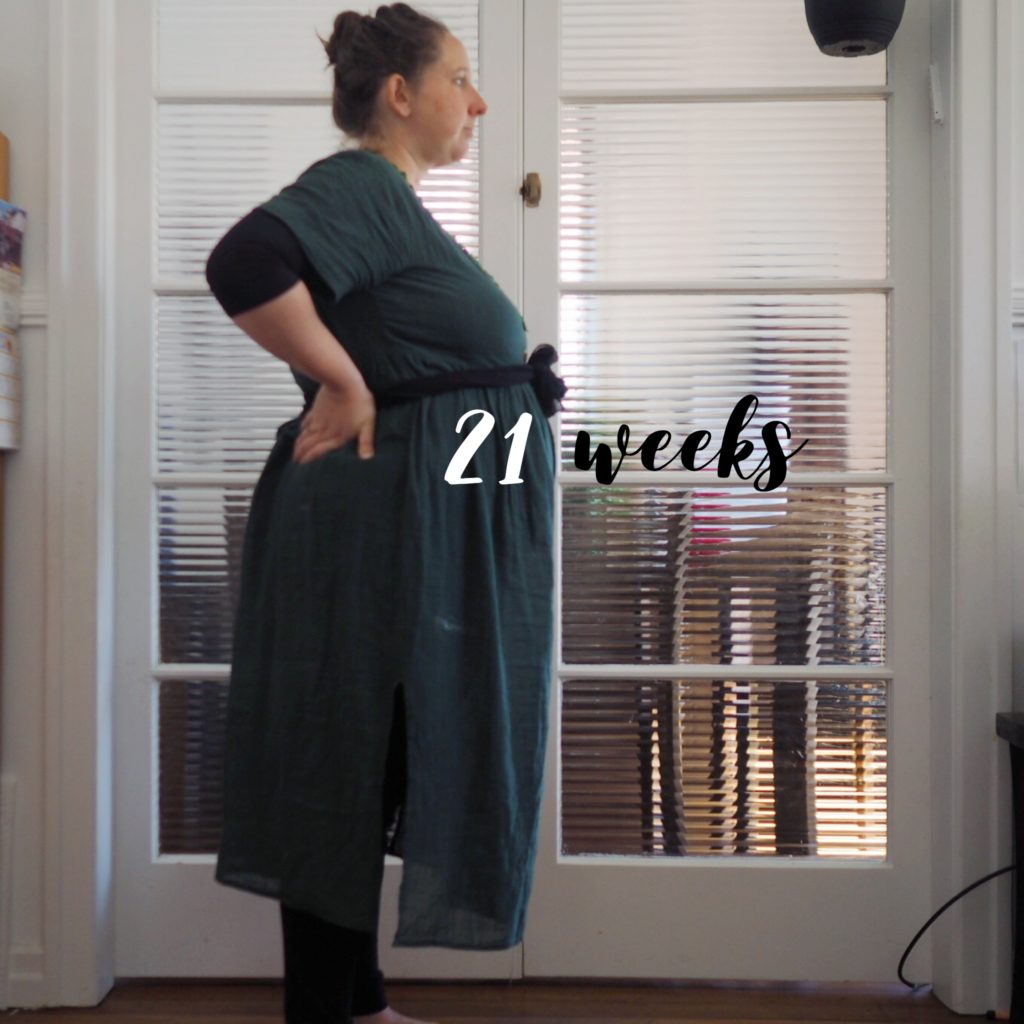 I had a midwife appointment this week, and I felt so so so much better afterwards. I hadn't realised just how stressed I'd been feeling about everything pregnancy related, it was really nice to talk it through and have Mary reassure me!
Little baby was so wiggly that we could hardly measure the heartbeat properly! But we certainly knew they were there because we could hear the big swooshes as it tried to avoid the doppler! It makes sense that I can feel so much movement!
I measured slightly bigger (22 weeks), but that's not a problem at this stage. Though that compared with the larger size in the ultrasound and a bit of a gut feeling is making me come to terms to possibly giving birth before my due date.
I went to the doctor today, not only to get my thyroid checked but also just to check my asthma. I've been taken around 6 puffs of Ventolin a day, and just coughing my lungs up. Really I feel like I'm just about coughing the baby out it's so bad. Anyway, I was so glad I went to the doctor because she explained to me the risks involved in taking a preventer puffer (larger baby), and the risks of uncontrolled asthma in pregnancy (which I definitely had), and really there was no choice but to take the preventer. That all happened today, so fingers crossed it works, and I don't have to be on it all Winter!
22 weeks pregnant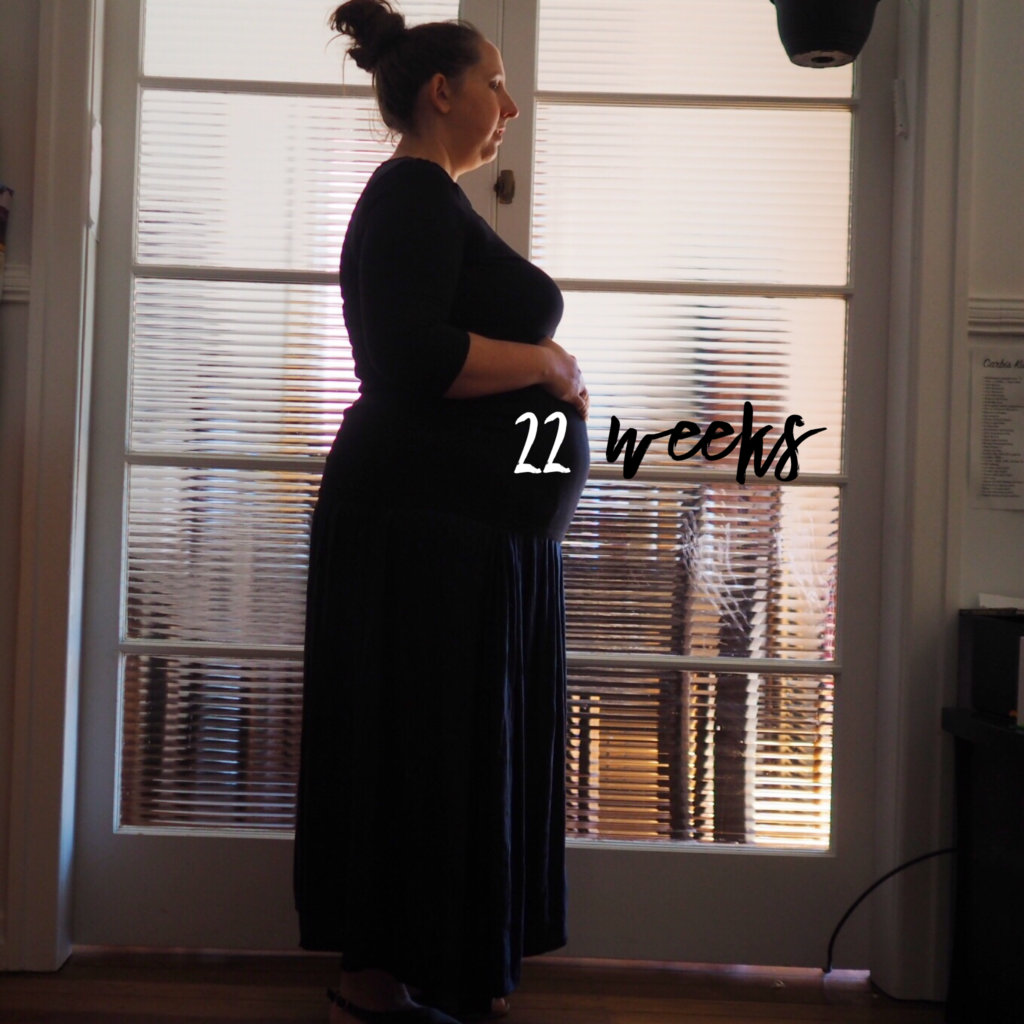 22 weeks! I am still sick, and holy smokes I am sick of it. The preventative puffer has been working really well, and my asthma has completely gone away. Thank you Hashem! I am still very blocked up, and am suspecting I have some sort of sinus infection, not just a cold anymore. I don't think it's been the flu – I've still been quite able to get around and do things, just tired and run down, but not bed ridden.
I've been trying to take it easy this week to get better. I've realised that this hard core cold combined with pregnancy means I can't just rely on my usually excellent immune system to keep me going without any extra rest.
Can still feel this baby move inside me all the time. It's quite sharp and strong, more like Eli than any of the others. I've started making Ahava's pregnancy scrapbook because I got out the boys ones, and I love looking through them and comparing everything week to week with this baby. It's a shame to not have hers! So I'll do Ahava's and this baby's at the same time. Just collecting photos at this stage.
My sleep has been terrible. It's certainly a bit better than it was (thanks to the asthma going away), but I still have a cough that likes to appear at bedtime (I think when I get cold, and when I lie down), and that combined with the numb hips and legs I get is quite distracting in the night.
Thankfully this week I got my foam roller out and did some work on that, and that night I had the most AMAZING sleep! I had listened to what the massage therapist had said when I got my pregnancy massage a few weeks ago, that the numbness was most likely from the muscles in my hips, bum, and thighs being out of wack, and put that into practice by rolling them out! I'm so glad it worked so well, and that this is something I can do at home and not have to get a massage once a week for!