Serious. Delicious. The first time I experienced a hummus bowl was when we were in Israel the second time, and at that point I felt like a BOWL of hummus was an outrageous thing I probably didn't need, and probably couldn't finish. BUT, once I ate some I realised that actually this was amazing. So here I am re-creating my own version with bought hummus (because when you find great kosher hummus… why not?!), and really delicious mix of spices in the beef. As far as I'm aware caramelised onions aren't traditional, but seriously – you need this in your life. I think caramelised onions are my number 1 food.
Another variation of this would be to use leftover beef from a roast. Pull it apart thinly, and then fry it up with the spices to give it flavour and make it hot. 🙂
___________________________
Serves 5.
Ingredients
Hummus (500g – 600g) – either pre-bought, or homemade
500g beef mince
2 tsp cumin
2 tsp sumac
1 tsp paprika
1-2 tsp garlic powder
1 beef stock cube
1 tbs chopped chilli (optional)
carmalised onions (1-2 onions worth)
parsley
zatar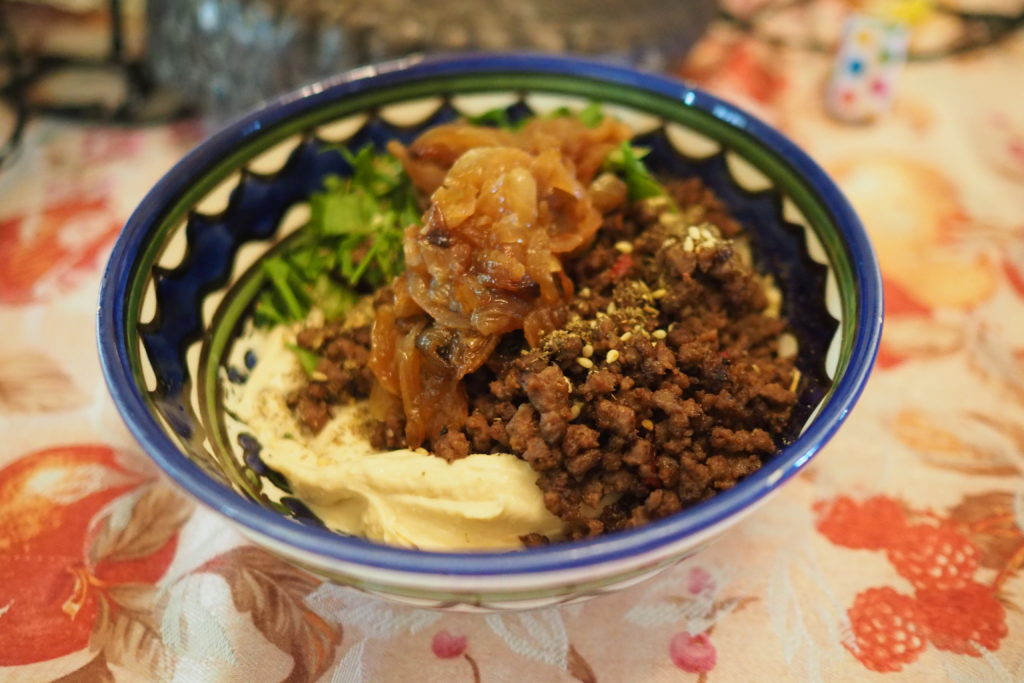 Process
First step is to caramelise your onions if you haven't already done so. These are best done in a big batch, and then kept in a jar in the fridge so that you can use them whenever you want.
Fry up your bed mince in batches, and then return it all the the frying pan (I actually use a wok because it is so much larger, and easy to push the already cooked mince up the side. Add in the cumin, sumac, garlic powder, paprika, and stock cube (crushed up). If you're using chilli you can add this in now also. Fry it up so that you get some nice caramelised crispy bits on your beef!
Finely dice your parsley ready for serving.
To serve: Fill your bowl with hummus – whatever amount your desire. I would say I put about 4 heaping spoonfuls into each bowl. Add your hot beef mince, a spoonful of caramelised onions, and sprinkle over some parsley and zatar. Now, you can eat!
Notes
I love to make this on a yom tov for lunch. I usually have the caramelised onions already made, and fry up the mince before hand and leave it in the fridge. Then on the yom tov all I have to do is re-heat the mince, and assemble the bowl. Easy!