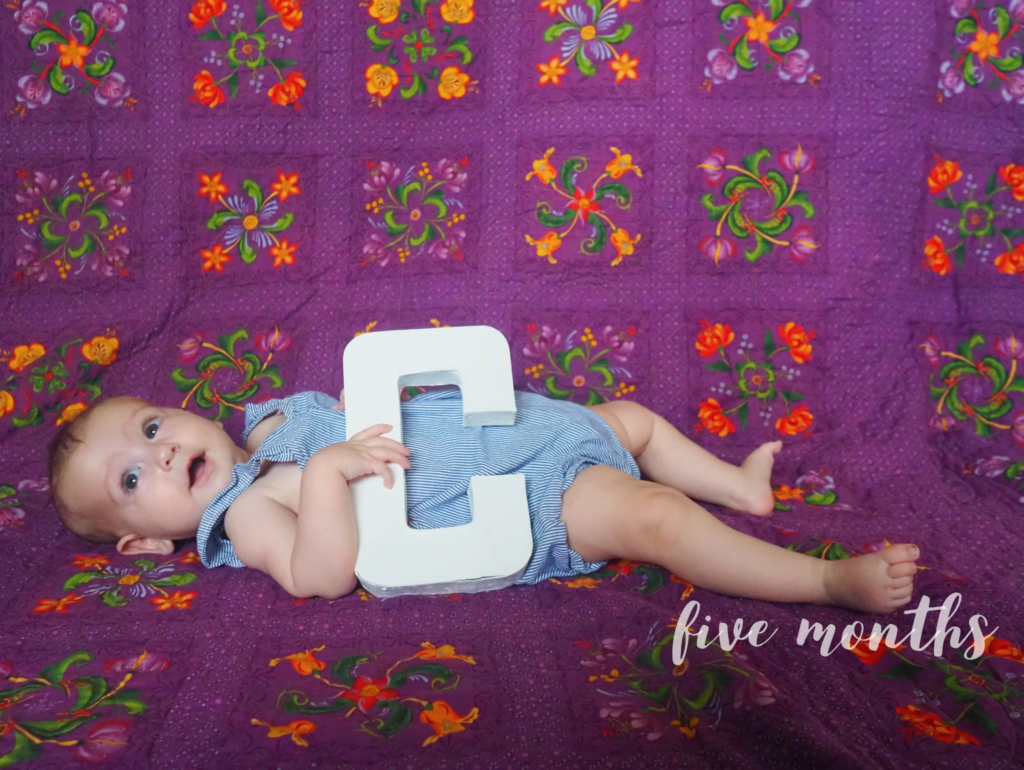 Dear Chaya,
It seems like a miracle to me that you are five months old. You are really changing and growing up so much, and it's the most lovely thing.
We started off the month with a bit of difficulty – I'd managed to boost my supply, so you were getting more breastmilk but you were then showing signs of food intolerance – lots of gas and being uncomfortable. More than is normal for a baby. So I got a bit stricter again, and limited other potential allergens. We also stopped using the donated breastmilk which is just dairy and soy free. We will trial it again next month over Pesach (your formula isn't kosher for Pesach!).
The biggest thing that happened this month was that you got your tongue tie cut! Before now your mouth was so small and your muscles so tight no-one could see a tongue tie. Now that the chiro has done her job we can see it easily. So we got it cut. It wasn't anywhere near as traumatic or worrisome as people made it out to be! You were a real champ! Just a few days later I could already feel you suck better!
Unfortunately on the Sunday after the cut on Friday (Abba's birthday!) you got a cold that lasted for 10 days, and we went backwards a bit in that time. You got really tight and didn't like me doing the exercises in your mouth all the time. I went to the doctor a few times, because you had a fever on and off, a bad cough that was obviously hurting you, and you were a bit wheezy with lots of phlegm. Things are mental at the moment because of the Coronavirus, and I admit I was a bit worried. She said over and over it was just a cold. But man, it stuck around GOOD. So frustrating. Everyone from the LC, to the chiro admitted that the timing was incredibly unlucky for us.
We've been through SO SO much in the four months leading up to this, and just when when we should be on the up and up, this happens. But Chaya, I will NOT let the common cold defeat me!! I WILL breastfeed you properly, even if at this stage it will probably be nearly 1 before that happens!
Anyway, you got over it eventually, but were really anti having people poking around in your mouth, and that made it hard to do your exercises. More set backs! But again, we persevered, and now we seem to be on the right track again.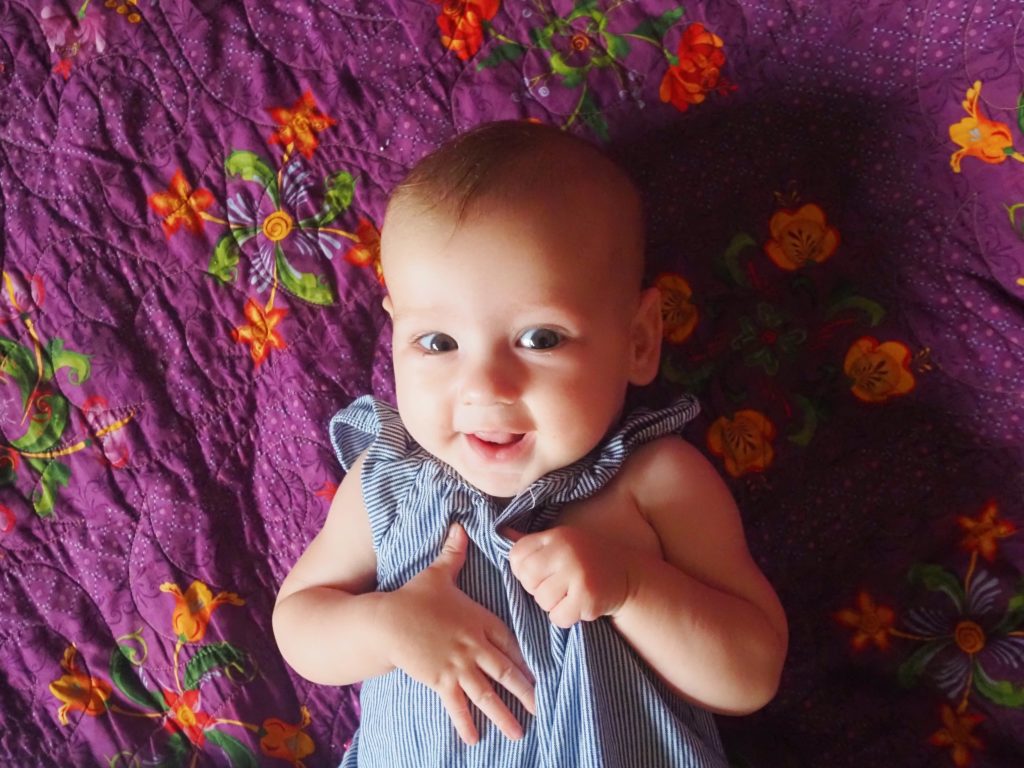 Four, nearly five month old you is really interested in food, even though you can't sit up yet. You often grab my hands and bring them to your mouth when I'm holding food! It's adorable, and I don't recall any of the other kids wanting food as much as you! Perhaps it's just part of being the youngest and seeing so many people around you eat all the time! So far you've had a bit of chicken bone broth (homemade), and some pieces of cooked sweet potato, BLW style.
You smile a LOT. I was reminded of it particularly when you were sick and you just didn't smile much at all. Actually, you were whiny and cried a lot and I found myself teary some days that I missed you and your happy smile! It isn't just any smile, it's a BIG smile!
Lior has enjoyed carrying you around in the ergo this month! And all your siblings have enjoyed cuddling you, carrying you, and looking after you. I think you really love them too, because you give them big smiles and turn your head when you hear them! Speaking of turning your head, you've been super distracted when breastfeeding lately! Any sound and you turn around to have a peek!
I love you my little CC. You're a total delight, and it's not an exaggeration to say that I fall in love with you regularly. I am so beyond glad that you are part of our family!