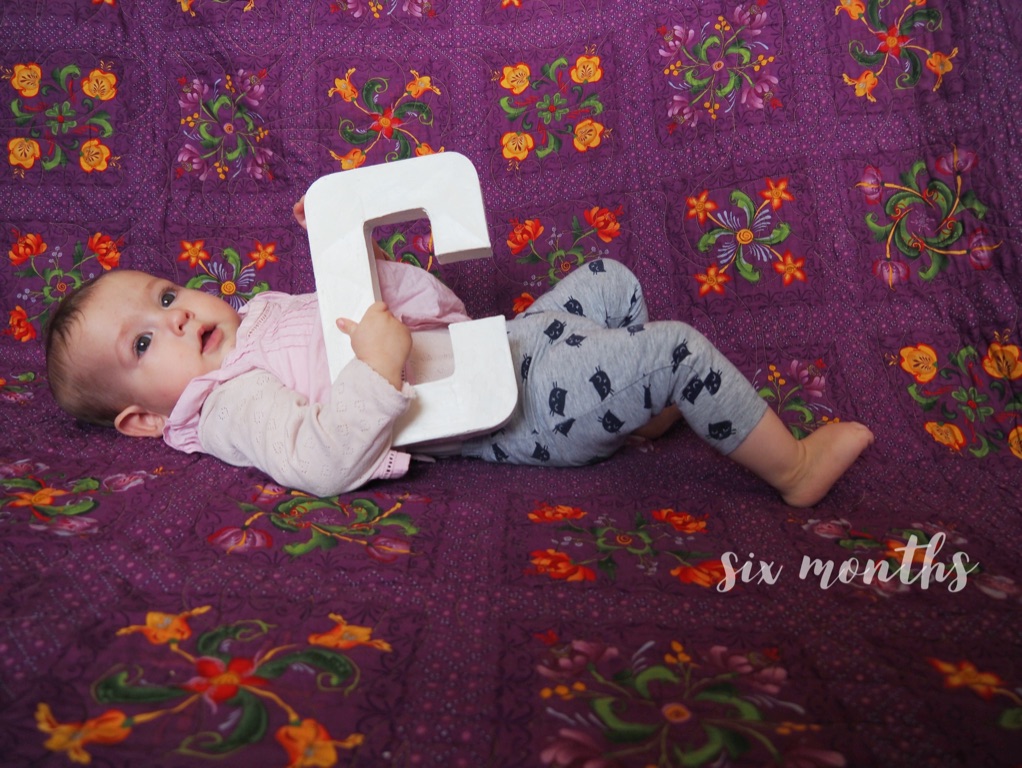 Dear Chaya,
You are six months old, and so lovely! You've been moving around lots this month. What started is scooting along on your back has morphed into dragging yourself on your tummy over to new places, and new things. You can see toys ahead of you and you move to get them.
You love to play "Peek a boo" – where you take a scarf or a blanket and you pull it over your head (all by yourself) and then quickly pull it off again and give a huge smile! You like it when I add my commentary of "Where's CC?!" and then "There she is!"
You've been experimenting lots with food this month, and gone from tasting little bits here and there to chowing down on at least 1 full packet of food every day! You also love to chew on random pieces of food like cucumber and tomato slices, and sample some of our dinner or lunch. We have arguments most days about WHO gets to feed you. Lior, Eli and Ahava all want to take turns (though after a little while it falls back to Dad or I!). You also go totally crazy if you haven't had solids yet that day and then I eat something while holding you!
This month the big kids have all been home because of COVID-`19. I think you've quite enjoyed having them all so close all the time, and they've all gotten really good at carrying you around and entertaining you!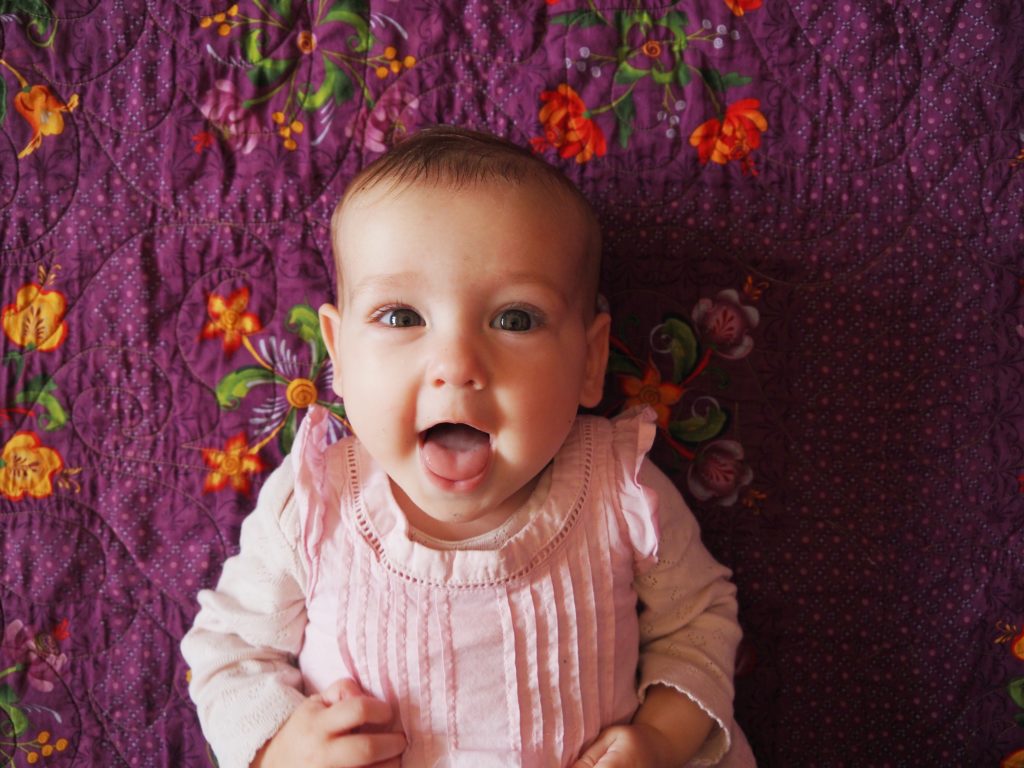 We had Pesach (Passover) this month which was really lovely. I had hoped this would be your first time going to synagogue (we can carry things on a Yom Tov, so I would be able to carry you there, which we can't usually do on Shabbat), but because of COVID… well, you know the drill by now!
Even without attending synagogue our Pesach was still beautiful, and we enjoyed teaching you the ropes!
You sat up this month! The 16th of April 2020 was the first day you sat up for any length of time. In the week after that you've gone full steam ahead and I can just sit you down places and let you play! You also have really strong legs that really love to stand up all the time!
We had a yummy gluten free and vegan lemon & poppyseed cake for your half birthday! You like to reach for people, and give beautiful cuddles.
Just before Pesach, when you started sitting up and standing, and moving around a whole heap more your jaws got really tight and couldn't breastfeed with the supply line at all! It was super stressful, but I trusted my gut and gave you the bottle instead, thinking your tightness was from working these muscles hard learning new skills. By the time we went back to the chiro it was all back to normal and she agreed with my assumptions about why it had happened.
CC, I love you so much. You are such an easy going, and joyful companion to my days. Even the hard days are easier with you. I love you.
Love, Imma