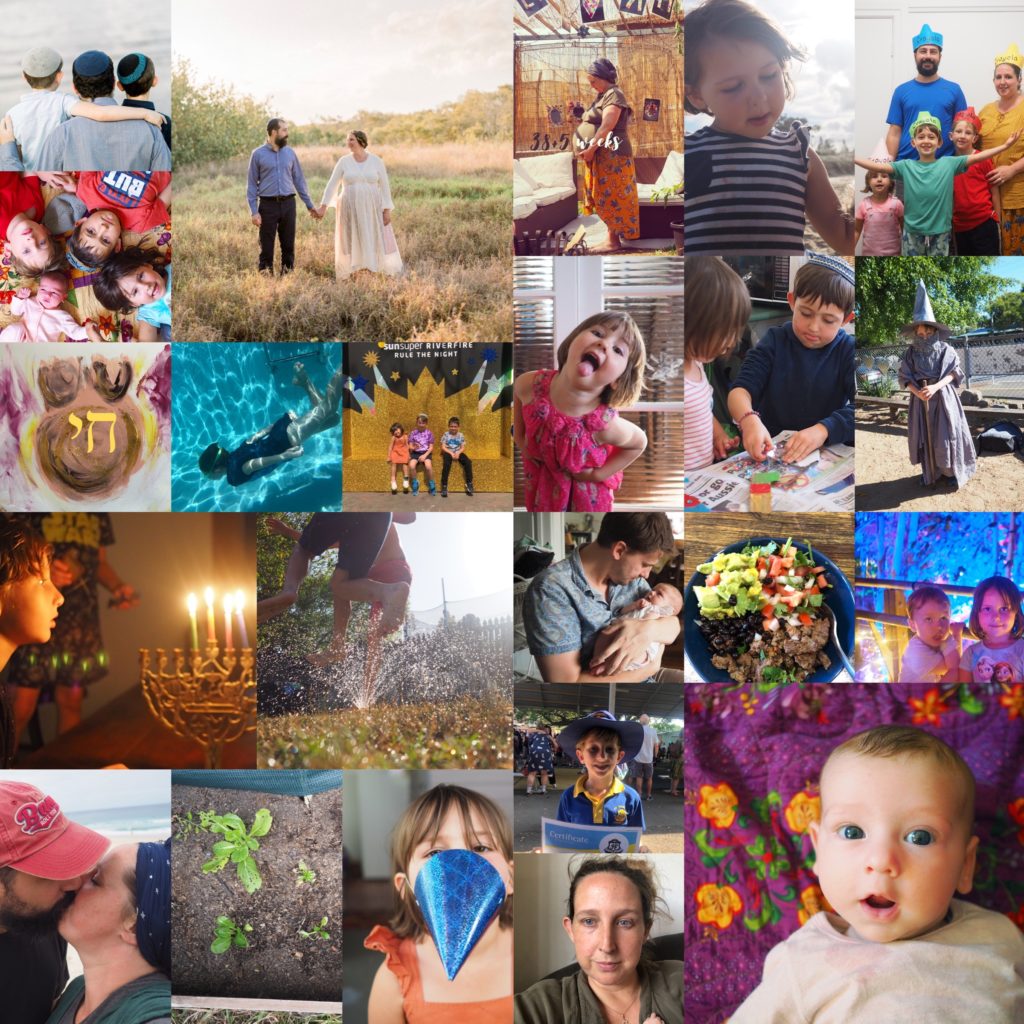 2019 – The year of baby. In Feb (maybe?!) I found out I was pregnant with CC, then we found out we were having another girl, and then in October we got to meet that sweet babe in a calm and powerful home birth! What a delight! I feel like I missed most of the pregnancy due to other major events happening, and even though I don't think it could have happened any other way, I kinda wish it had, because I love being pregnant (was absolutely not saying this in the first or last few weeks of the pregnancy!!)
Becoming a family of 6 feels so surreal, and so right. She was always destined to be here with us, and I'm so grateful for my family.
2019 – The year of stress. Lots of work changes for Luke, a hectic time converting to Judaism, and then finishing it all off with a stressful 7 weeks of dealing with Chaya's ongoing health concerns. So yeah, a lot of stress. Hopefully no permanent long term damage to my health!
2019 – The year of growth and change for my big 3. Ahava's language really blossomed, Eli thrived at school more than we could have possibly anticipated, and Lior also had a great year doing what he loves – learning. Both boys received auspicious principal's awards (Eli semester 1, Lior semester 2). Outside of school all three biggies made great progress with their swimming and water confidence, and with their Hebrew studies at Cheder.
2019 – The year of Judaism. In June we finished our studies in our conversion program, in September we flew down to Sydney to do our final interview, enter the mikvah, and get married. We have all made major changes to our life and observance this year, and even though we often make mistakes or lack in areas we are always striving to be better and love Hashem always. I'm so proud of the kids for embracing every step of the process without complaint or regret. Even when it involved some pretty significant sacrifices from the boys!
2019 – The year of nourish. My word for 2019 was nourish and even though this year was hard on my brain and my body, I'm actually so thankfully I had this word with me, because it helped keep me on track as best I could! I didn't keep up with the prompts in the course, but I used my word each week to make sure I was nourishing myself and my health in some way and not letting things get too out of control.
All up I remember 2019 as a year of many many accomplishments. Accomplishments don't come with effort and sacrifice, so I could very reasonably look back on 2019 as a hard year too, but what's the point in that?
Finishing the year more grateful than ever for Hashem's hand in everything we do – guiding us and leading us. For my parents (especially my mum!) for being such huge helpers with adapting to life as a family of 6. For our life – some may look in on it and think we're not hitting the right goals, but I know we are. I've never been more sure that we're doing everything perfectly in His timing.