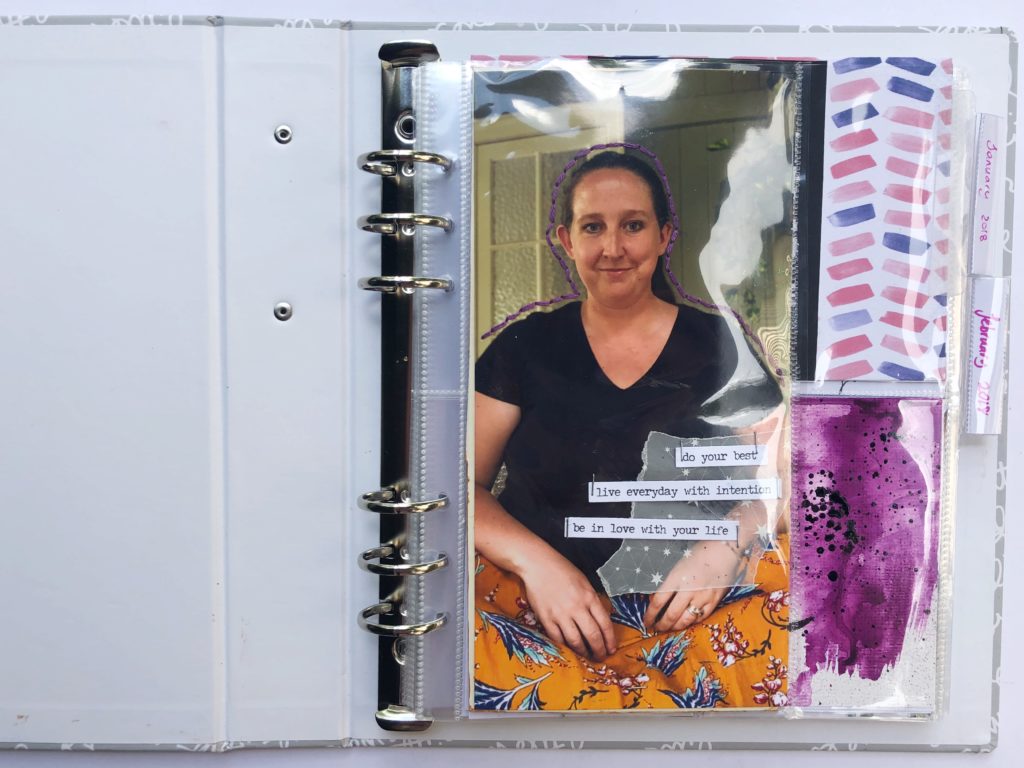 So at the end of 2017 and start of 2018 I decided to enrol in Ali Edward's One Little Word Class. I have known of the idea on choosing a word for the year for a fair while, and have actually chosen a word for the last few years, but this year, what with all the big changes in our home life and in our family I thought I would indulge myself in actually doing the course! I just chose to do the course (which came with printables), and then bought an album and a couple of other bits to go with it. So no official kit for me, just whatever I made up.
It's been slow going getting into the project. I think it's just because I've not done it before, so each month's prompts are totally new to me not just in the content they produce (based on my word), but also in the idea of them. When I watch videos of seasoned OLW-ers like Essie Ruth, they seem to know the mechanics of the prompts, and so are able to then create using their word a bit easier. I'm not sure if that totally makes sense written down, but hopefully you understand that I'm trying to say, that the more years you do the project the easier it is.
Anyway, it's the end of February and I finally finished both the January and February prompts! I have decided I really like watching the videos and knowing about the prompt at the start of the month, and then actually completing it in the second half of the month. That way I've had time to mull over it and think it through. Again, perhaps this won't be necessary in future years when I'm more familiar with how various prompts work, and how I want my book to look.
My word for 2018 is "Womanhood" – a word that I thought I kind of knew, but that I am absolutely loving exploring deeper. When you really put something out there, that you want to learn more about it, I feel like Hashem honours that, and will teach you! That's certainly been my hope & prayer.
January One Little Word Tour
// I started the album with a photo of myself, and some embellishments. I wanted to put myself front and centre in this book, because I really see this as a personal journey of self discovery.
// On the back of the photo I made a mixed-media page with my word "Womanhood". On the opposite page I added a personalised "January" title card, and one of the quotes from the kit.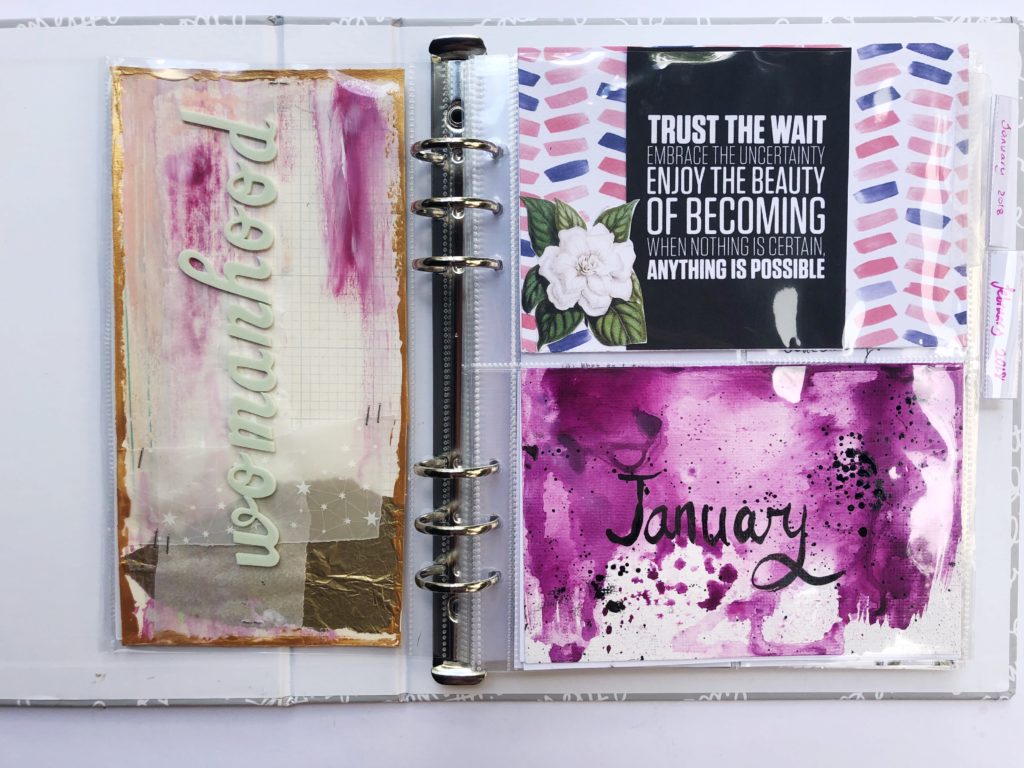 // On the back of the monthly card I included a reflection on how I related to my word this month, and added my completed prompt cards.
"Womanhood" in January

January was such a busy month for me that I struggled to find time to even think of my word. But on reflection of the month, I realised that I lived a certain reality of womanhood – serving others, mothering, creating celebrations and family traditions, and recording family stories. These mothering and homemaking aspects of womanhood are beautiful things, and our resilience to get through things, to keep going, and to also find the space for self care is so important.

In January I sent two of my children off to school. One to year 1, and the other to part-time Kindy. I went from homeschooling 3 kids all day every day, to only have 2 kids at home half the week, and 1 at home the other half! I experienced VERY broad range of emotions. Everything from joy to guilt, sadness to pride, and relief to disappointment.

Emotions. They are a massive part of womanhood.

Emotions. They are a massive part of motherhood.

I think I want to really FEEL all those emotions, respect them, acknowledge them, and also process them well and control them.
Reason Why: I feel like I'm on a journey to discover a deeper layer of Biblical womanhood and all its complexities.
Quote: "Her intuition was her favourite superpower"
Definition: NOUN. * The state of being a woman *The qualities considered to be natural to or characteristic of a woman. *Women considered collectively.
Let Go: *Immaturity holding me back. *Past idea of womanhood that don't align with Biblical/Jewish values.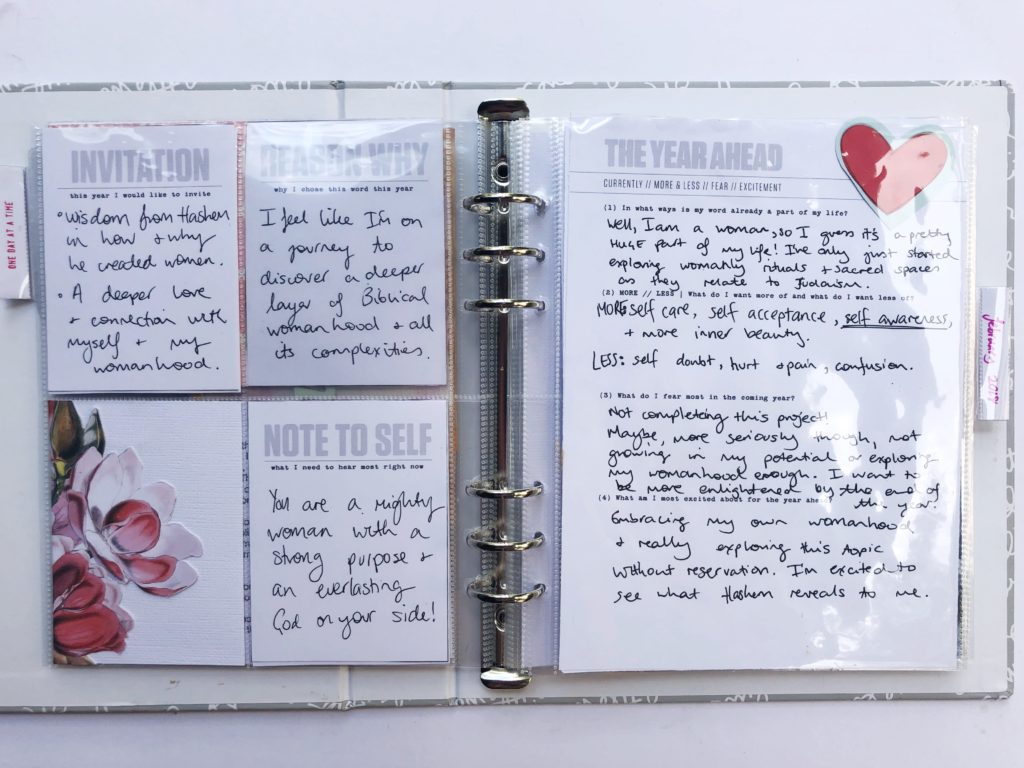 // The next spread includes some more prompt cards, and my planning page for the year ahead.
Invitation: *Wisdom from Hashem in how and why he created women. *A deeper love and connection with myself and my womanhood.
Note To Self: You are a mighty woman with a strong purpose and an everlasting God on your side!
The Year Ahead:
In what ways is my word already part of my life?

Well, I am a woman, so I guess it's a pretty HUGE part of my life! I've only just started exploring womanly rituals and sacred spaces as they relate to Judaism.

More//Less

More: Self care, self acceptance, self AWARENESS, and more inner beauty.

Less: Self doubt, hurt and pain, confusion.

What do I feat most in the coming year?

Not completing this project! (not in my album, but should be:) Getting too busy and distracted to finish.

Maybe, more seriously though, not growing in my potential or exploring my womanhood enough. I want to be more enlightened by the end of the year!

What am I most excited about for the year ahead?

Embracing my own womanhood and really exploring this topic without reservation. I'm excited to see what Hashem reveals to me.
// My last page for January is the intentions page!
Intentions:
Physical – *Holistic health (oils, food, supplements, herbs etc.) *KNOWING my body. *Monthly cycle/pregnancy – tracking and acknowledging
Emotional – *Meditation *Acknowledging the various parts of my monthly cycle. *Gratitude lists *FEELING emotions (all of them!) and not being afraid of them!
Spiritual – *Meditation *Bibilcal femininity (study) *Establishing feminine prayer rituals *Brachas *Gratitude *Rosh Chodesh
Relationships (family) – *Coming back to being a nurturing mother *Being vulnerable, honest, and growing together with Luke.
Creative – Exploring art journaling more and especially exploring womanhood THROUGH art journaling.
Relationship (others) – *Limiting social media *Cultivating good, honest, womanly friends.