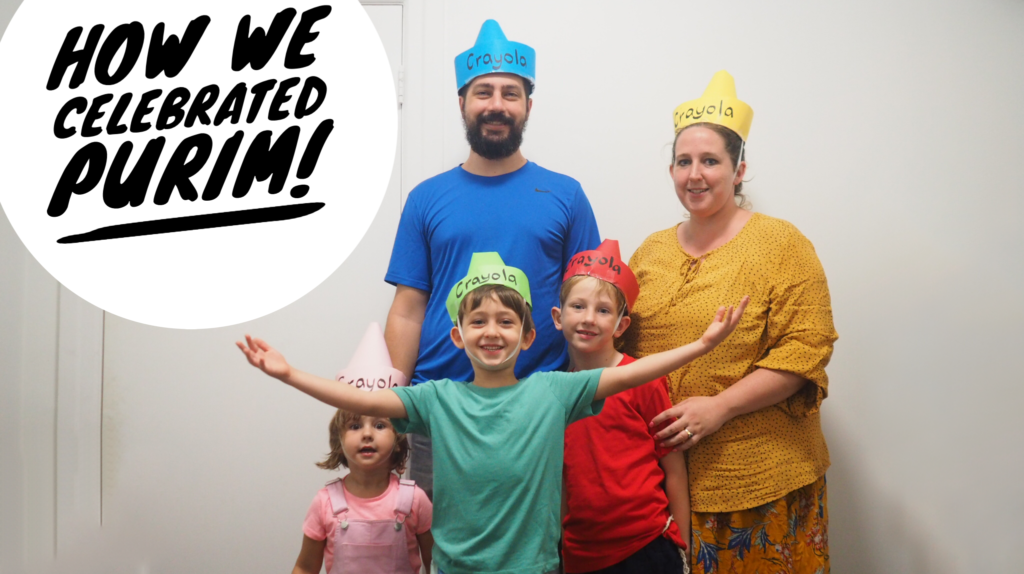 We had a really lovely time celebrating Purim this year! We to the shule in the city to celebrate instead of our own Shule because the kids go to their Cheder, and were in the Purim play. I've put together our Purim adventures in a video below:
This video was a collaboration with Chana and Melissa, so check out their videos also:
Little Kosher Lunch – https://www.youtube.com/watch?v=ekoMbTcznoQ
Cheder at home – https://www.youtube.com/watch?v=6e8oTWQ5X_A
The play was such a success that we're quickly moving on to a Pesach model seder that all the kids are involved in. Even Ahava who is 3, and certainly the youngest of the group had lines in the play, and sung the songs. She's already memorised her song in the Pesach seder which is exciting to see.
We enjoyed all the festivities, giving out our Mishloach Manot, reading the Megillah both in the evening and the next day, feating, and dressing up! Purim day co-incided with Harmony day here in Australia (maybe internationally, not sure…) and it was lovely to have this celebration of cultural and religious diversity on such a special day. We're really grateful to be part of a school that recognises and celebrates the diversity.
I hope everyone reading this had a lovely Purim (for those who celebrated!), otherwise a great Harmony day. Now on to the Pesach prep!