A delicious salad that you can prepare the day before, or just before eating.
If making this for Motzei Shabbat you could cook the pasta and pumpkin on Friday, and keep them refrigerated, then assemble before eating. You can also prepare this whole dish on Friday and it will easily keep in the fridge until Saturday evening.
Ingredients:
1 fillet of hot smoked salmon
2 handfuls of uncooked pasta (I use gluten free)
Cubed pumpkin – roasted
1 handful of flat leaf parsley
½ red onion, diced
1 big handful of diced pumpkin
Cheddar cheese
Process:
1. Cook your pasta according to the packet instructions.
2. Take your pumpkin and bake it in the oven with some olive oil until soft.
3. Cut up your onion finely. Chop up your parsley, and grate your cheese.
4. Time to assemble! Break up your smoked salmon into the bowl, along with all the other ingredients. Mix in the bowl. If there was some oil in your tray from the pumpkin make sure you add that so you get a nice "dressing" through the pasta salad.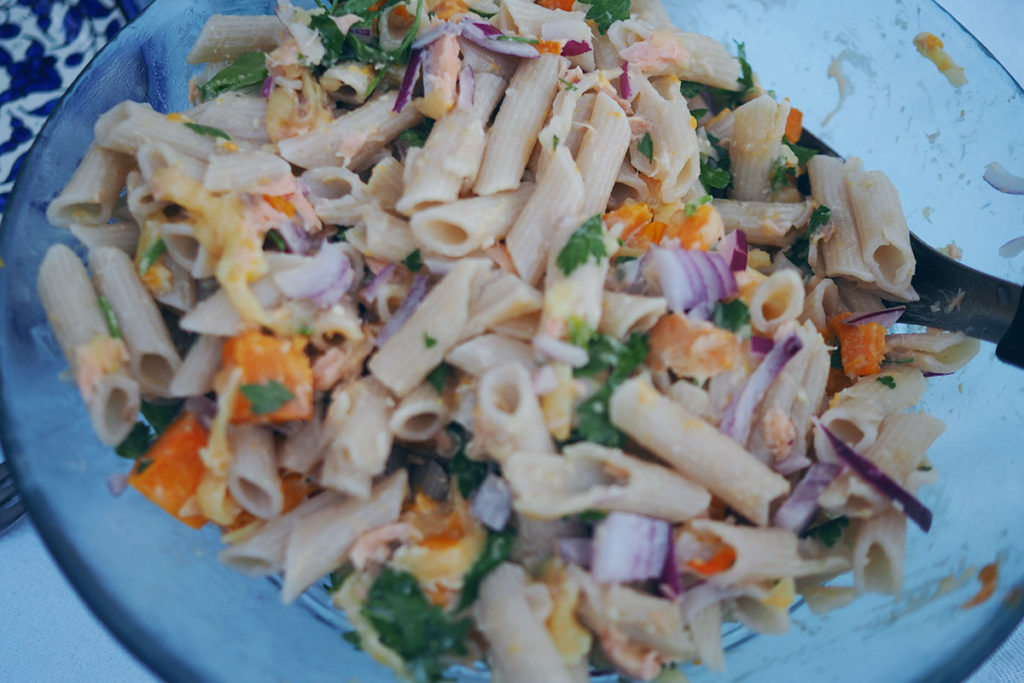 Variations:
You could throw anything into this salad of course, but some variations I like include:
Fresh spinach or rocket in place of the parsley
Tinned tuna or tinned salmon in I don't have any hot smoked salmon at home
Serve it warm if making it during the week, or eating it as soon as it's prepared
Use sweet potato instead of pumpkin